Description of Modular Solvent Trap:
1. Modular Solvent Trap (MST) kit is one of the most versatile in the Solvent Trap market because of its distinct modular design.
2. Modular Solvent Trap kit features 60-degree cups for unparalleled performance, as well as an included thread mount, tube and end cap.
3. With a straight cone shape that tapers to a smaller diameter (compared to its pistol Modular Solvent Trap compadre), Modular Solvent Trap was designed with performance and customization in mind.
4. In its longest configuration, this solvent tube is only 19.88 oz(563.7g).
5.Threaded in the industry standard 1.375"x24, MST is compatible with many mounting options
6. 9 Modular baffles plus end cap for many configurations, 9 SS baffle liners that guide the payload
Specification of Modular Solvent Trap:
Shortest Configuration Weight: 5.69 oz(161.2g)
Longest Configuration Weight: 19.88 oz(563.7g)
Shortest Length: 2.88"
Longest Length: 12.5"
Diameter: 1.57''OD, 1.34''ID
Build Materials: 304 Stainless Steel and 7075 Aluminum.
Finish: Raw material
Thread Mounts: 5/8x24 and 1/2x28, both threaded mounts
Tools: All outside flats take standard 11/2" SAE American Tools
Tube Thread: 1.375x24 TPI
Package of Modular Solvent Trap:
2x Thread mount ( 1/2''x28 + 5/8x24 )
1x Adapter for Booster with thread 1-3/16 x 24 to 1.1875 x 24
1x Sealed End Caps
9x Cone Cups(1x Stianless Steel Cup+8x Aluminum Cups)
9x Stainless Steel Liners
5-8 x 24 Compatible Calibers:
.308

45 ACP

.40

30-30

30-06

300

333 Lapua

6.5 Grendal
1-2 x 28 Compatible Calibers:
.22

9mm

17HMR

5.7x28

5.56

.223

.243

.270
To learn more about types, click here for Thread Guide
Description of Jig:
Designed to be used with our
Form 1 kits
, and
1.1875x24(1-3/16x24
) kits
this fixture allows for easy drilling cups and end cap of our solvent traps.
Utilizing a hardened steel drill bushing this fixture will give you
years of use.
Material: 7075 aluminum and stainless steel
Diameter of center hole: fits .22 5.56 .30 .45 9mm 300 etc
To learn more about this jig, Click Here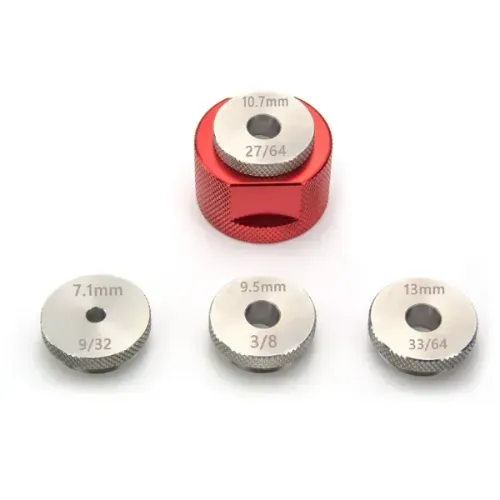 Included in the Jig:
1x aluminum Top fixture
4x stainless steel Bottom Cap
Description of Booster:
Introducing the new Booster.The use of the booster assembly allows your device to properly cycle when the weight of a solvent trap is added to the end of your device.
Most semi-auto device with a browning type action will require a booster to properly cycle.

Booster assembly includes piston
Booster threads are 1.1875x24.
For semi-auto device only.

Weight: 0.12 lbs(3.8oz)
Dimensions: 2 x 2 x 2 in

Size: 1/2x28, 5/8x24, 9/16x24, .578x28, 13.5x1LH





What are in the booster?

1x Aluminum Black Body
1x Aluminum Black Cap
1x Stainless Steel Spring
1x Stainless Steel Piston
1x Wrench

NOTE: There are two types of booster. Function, material are the same, the only difference is the shell.

If you need to specify please note, otherwise random shipping.